Easy Orange Marmalade Chicken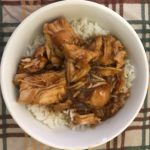 Ingredients
4 Large Boneless Skinless Chicken
¾ cup Smucker's Sweet Orange Marmalade
¾ cup of Sweet Baby Ray's Original BBQ Sauce
2 tablespoons Soy Sauce
Powdered Chicken Bouillon (sprinkle to cover both sides of chicken)
Instruction
Sprinkle powdered chicken bouillon to cover both sides of the chicken.
Place chicken in the crockpot and cook on low for 6 hours (I've heard you can cook on high for 3 hours) once cooked drain the crockpot.
About 15 minutes before the chicken is ready Mix together orange marmalade, bbq sauce, and soy sauce.
Cut up chicken into large blocks and place back into the crockpot.
Pour the marmalade mixture over the chicken and cook on high for 30 minutes more.
You're done.  Serve over white rice and enjoy
BeingBecca.Com   More than a wine tasting blog
If I make it….it's got to be easy.